---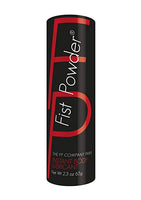 Sale
Safe. Slippery. Long Lasting. No stains. No strings! This essential body massage powder turns into an easy to rinse lubricant with the addition of water. Measure out your desired amount, and shake to mix to make your own custom lube. Play with thickness or concentration by reducing or adding the amount of powder when mixing, the gel regenerates itself by adding water. The powder based formula makes it ideal for travel, with no spilling or sloshing around. Plus, since it is super concentrated and dehydrated, this one small can will make anywhere from 220 to 440 ounces, depending on your desired viscosity. That is equal to 55 regular size bottles of 8 ounce lube! There are no preservatives, and the formula is leather, rubber, and latex friendly.
Ingredients: Maltodextrine, Xanthan Gum, Polyethylene Oxide.
Makes from 220 to 440 fl oz of lube. Do not inhale powder.