---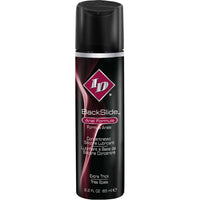 Sale
One of ID ®'s more creative formulas, BackSlide ®, was made with a specific purpose in mind. ID® looked to create an anal lubricant that would surpass all others in quality and performance. After spending two years in development we created a uniquely blended formula.
ID's BackSlide® was created with a special thick silicone-based formula. In fact, our silicone lube is one of, if not the thickest lubricants available for consumers to enjoy. This thick, cushiony texture and feel is unlike any other anal lubricant on the market. This allows for ease of penetration as it keeps the anus from unnecessarily contracting while not desensitizing the individual completely.
We designed our anal lubricant to be latex compatible making it perfect to use with your favorite toys. These features combined to make a product that would appeal to genders and couples of every walk of life. All of this comes together to make ID's Backslide ® the best lube for anal sex.